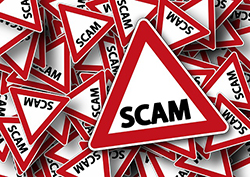 Federal Trade Commission and IRS agents encounter dozens of small business scams each year. Know the risks and steps you can take to protect your company in 2018.
1. Tech Support Calls
The caller claims to represent the Global Privacy Enforcement Network or Microsoft and says that your email was hacked or that your computer contracted a serious virus and can be fixed for a fee. Computer companies will not reach out to you via a phone call, but scammers will use this scam to access your credit card or other personal information.
2. Phishing and Malware Emails
An email appears to originate from a legitimate business and asks you to verify personal information or it states that you need a critical security upgrade. Known as phishing emails, these scams can deliver harmful malware to your computer and compromise your business. Only open emails from trusted sources as you protect yourself. Mark suspicious emails as spam or delete them.
3. Directory Listings
A consultant says she can list your business in an online directory for a fee or that you owe a fee to resolve a problem with your existing Manta, Google or other online directory listing. You can claim, manage and edit your online directory listings yourself online. This directory listing scam is a ploy to gain your credit card information. Decline the help and hang up the phone as you protect your business.
4. Fake Invoices
You receive an invoice stating that you owe money for office supplies, advertising or another expense. If you did not order these items or already paid the invoice, you may disregard the fake invoice. Be sure to keep excellent records so you and your staff can dispute any fake invoices.
5. Loan Robocalls
To help you fund your business, a caller will offer you a loan with excellent interest rates or offer to lower the interest rate on an existing loan. These scams gather your personal information, so decline the offer and only pursue legitimate small business loans.
6. IRS Fraud
Someone calls your office and says that your small business faces legal action because you owe thousands of dollars in overdue taxes. The IRS will always mail communications about overdue payment. The scam caller simply wants your social security or credit card number to steal your money or identity.
These six scams are only a few of dozens that could affect your small business. Understand potential scams and train your employees to recognize and avoid them. Purchase business insurance, too, to protect your business from liability if you do happen to become a victim.