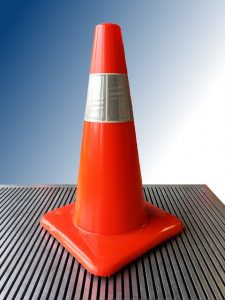 Forgetting one hurricane tie before drywalling probably isn't going to see a house going up in a tornado like in The Wizard of Oz. Some mistakes aren't that big a deal. Others… well, here are some of the biggest mistakes ever made in construction, engineering and architecture:
The Aon Center
The Aon Center, completed in 1973, was known for its beautiful exterior made of Italian Carrara marble. A fetching addition to the Chicago skyline, it turns out that there's a reason they don't use Carrara marble on most buildings. It's a very thin material. Just one year after the building was completed, pieces started to crack and fall off, one of them smashing through the roof of the nearby Prudential Center. Replacing the exterior with granite cost over $80 million. There's something to be said for using the right materials the first time.
NASA and Lockheed Martin's Mars Orbiter

Long story short: in 1999, Lockheed Martin used the English system of measurement on a project with NASA, while NASA used the metric system. The Mars orbiter was then unable to transfer its coordinates to the lab in California. Now there's a $125 million chunk of useless metal floating around the galaxy. You might not be building a satellite any time soon, but it's important to get on the same page with your crew and your client when it comes to how many inches are in a meter.
Vdara Hotel & Car Dashboard
The Vdara Hotel & Spa is a classic example of a designer putting form before function. All those reflective surfaces on the windows surrounding the pool looked absolutely stunning, but at mid-day, they created a sort of magnifying-lens-on-an-ant effect, scorching people in the swimming pool and turning the whole area into a car dashboard on a Summer afternoon. One man even claims to have had some hair singed right off his head while going for a swim.
Piper Bravo Oil Rig
The smallest mistakes can have major complications. The Piper Bravo Oil Rig exploded, killing 167 people, simply because safety inspectors forgot to replace a single safety valve after a routine check of the rig. The repairs cost more than $3 billion in 1994 USD. This is something worth thinking about the next time a worker decides that he doesn't need to wear his goggles if he's only going to be using the table saw for a couple minutes.
Source
http://www.businessinsider.com/worst-mistakes-in-history-2011-4?op=1