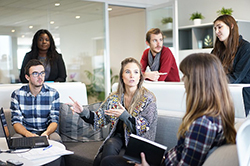 As a human resources professional, you help your company prepare to onboard new employees. When that new employee is the CEO, you may receive questions from employees who worry about their job security or potential changes to the company culture. Use these tips as you reassure your employees.
Make a Good First Impression
Many new CEOs take a few weeks or months to make personnel decisions. Encourage employees to make a good first impression and be available, participate willingly and learn as much as they can. Their efforts prove their readiness to embrace change and move forward for the sake of the company.
Study the CEO's Working Style
The new boss may prefer direct confrontation, walking meetings or emails rather than phone calls. Employees should study the CEO or ask for details so they can properly support his or her working style.
Work as a Team

Employees may resist the overhauls a new CEO wants to make. However, employees should get on board and tell the new boss that they will embrace and cooperate with the new vision. This teamwork mentality can mean the difference between staying employed or getting sacked.
Offer to Help
Talking to a CEO may be intimidating, but employees will benefit from offering to assist their new boss. They can reach out with an email or voicemail and tell the boss that they're willing to do whatever it takes to help him or her succeed in managing the company.

Prove Your Value
New CEOs are hired to improve efficiency, productivity and sales, and they will make changes as they do their job. Current employees must prove that they're valuable members of the company. Instead of relying on past success or accolades, employees can secure their jobs by initiating a conversation about what the CEO expects of them and then exceeding those expectations.
Do Great Work
Every employee should show up for work each day ready to perform. Adjusting to new strategies may take time, but employees who show a willingness to work hard on each project, participate in discussions and follow through with objectives will stand out.
Avoid Gossip
Nothing travels faster through the office grapevine than gossip. Encourage employees not to complain about new policies or strategy changes. Social media posts, interoffice emails and even private conversations could be leaked and become grounds for dismissal.

Forget the Past
Under the previous leadership, an employee may have felt mistreated, unheard or frustrated. Times have changed, and employees need to forget past grievances, embrace the future and cooperate with the new leadership.
When your company welcomes a new CEO, calm your employees' fears with these tips. They help everyone welcome the new boss and support the company's success.