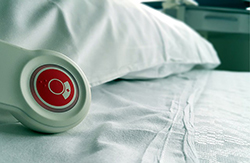 Long-term care (LTC) insurance ensures people with disabilities, chronic illnesses or other conditions receive the daily help they need. The coverage includes a variety of benefits, including equipment and home modifications. Understand the value of these specific benefits as you determine if LTC insurance is right for you or someone you love.
What is LTC Insurance
While beneficial, your health insurance coverage from an employer or private source usually does not cover daily, extended care. Likewise, Medicare covers only a short nursing home stay or limited in-home care, and local agencies sometimes provide only a small amount of financial assistance to low-income adults.
LTC insurance can cover the expenses of the nursing and practical help you need. Equally important, it can pay for essential home modifications and the equipment you need to remain safe, comfortable and independent in your own home.

Items the LTC Equipment and Home Modification Benefit Covers   
You can use your equipment and home modification benefit to cover a variety of expenses.
Wheelchair ramp
Grab bars
Stair or bed rails
Walk-in shower
Raised toilet
Power recliner or chair
Accessible light switches and electric outlets
Wider doorways
Stair lift
Low-pile carpeting or other flooring
Each of these equipment items and home modifications improves your safety and comfort in your home. They also equip you to remain as independent as possible.

Why you need the Equipment and Home Modification Benefit   
The majority of disabled, ill or aging Americans prefer to age at home. However, you may need special equipment, such as a hospital bed, power recliner or shower seat to remain independent. Additionally, you may require home modifications like lever handles, accessible power outlets or low-pile carpeting that improve your home's functionality and safety.
The costs of renting or purchasing the equipment you need can quickly add up, and home modifications could total tens of thousands of dollars. Conserve your personal funds for other needs like daily living expenses and medical treatment when you use your LTC insurance policy to cover a portion or all of the equipment and home modification costs.
Additionally, realize that your insurance policy funds will reduce caregiver stress. Your loved ones will gain peace of mind and experience less physical and financial challenges since your insurance benefit will pay for the equipment and home modifications you need to remain safe in your home.
How to Purchase LTC Insurance
The future is uncertain, but you can meet your daily living needs with LTC insurance. Discuss your needs, including the equipment and home modification benefit, with your insurance agent. Be sure to choose a policy that covers your expected financial needs, has an affordable premium and meets your long-term care needs.