No one likes to believe that, in our society, there are predators who take advantage of individuals who are the least able to defend themselves. However, the sad truth is that across America every year, millions of seniors are hoodwinked by fraud, scams, and swindlers. These common scams can happen in the home or at the mall. They can be carried out in person, by mail, on the phone, or over the Internet.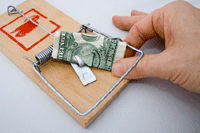 In reviewing telemarketing fraud, the United States Congress has stated that telemarketing schemes have become a $40 billion per year "industry." There are approximately 140,000 active telemarketing firms in the U.S., and Congress estimates that up to 10% of these might be fraudulent. Many of these fraudulent telemarketers prey on older Americans. The American Prosecutors Research Institute indicates that senior citizens are more susceptible to telephone fraud than others because they possess more than half of all the financial assets in this country and their assets can be converted easily into large sums of cash. Secondly, older people are more likely to be at home to receive telemarketing calls. And finally, many older Americans are too polite to hang up. Amazingly, some senior citizens are subject to fraud because they are just too nice.
But there are steps you can take to protect yourself at home, on the phone, and online. On the Internet, beware of any "free" service or product. Don't give out personal information unless you absolutely know who the provider is. Just because your friend knows them is not good enough. Furthermore, don't use your credit card to make purchases on the Internet. No site, not even a bank site is 100% safe.
In your home, you control access and never, ever, let anyone inside whom you don't know. If you make the decision to purchase something from a door-to-door salesperson, which is not recommended, pay by post-dated check or ask to pay upon delivery of your item. Never pay cash. And don't use your credit card or give your credit card number. Even better, ask the salesperson to come back tomorrow after you've had a chance to think about it, and then investigate to confirm they are legitimate.
On the phone, get an answering machine or caller ID to screen your calls, and only pick up the receiver if it is someone you know and trust. If a salesperson gets through, don't accept anything they claim is free; such as sweepstakes prizes, cruises, or high-yield investment returns. If it sounds too good to be true, most likely it is too good to be true. Never give your credit card, phone card, Social Security, or bank account number to anyone over the phone. In fact, it is illegal for telemarketers to ask for these numbers to verify a gift or prize.
If you feel suspicious of any person or company, trust your instincts and hang up, close the door, or turn off your computer. Call the police or the Better Business Bureau and report the questionable activity. Or contact the National Consumers League Fraud Information Center at www.fraud.org. With vigilance and good common sense, you can help yourself as well as other potential victims avoid this insidious crime.
Be safe. Be careful, and don't become another victim.