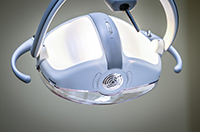 In today's high-tech world, every business depends on increasingly complex electronic and electric equipment to stay in business. But what happens when these systems break down?
Consider this nightmare scenario: You're facing a deadline under a major contract when a voltage spike surges through your electrical lines, burning out its computers and telephone networks, and shutting down your operations. In addition to lost productivity, you'll need to spend time and money repairing or replacing the damaged systems – not to mention the revenue you'll lose until you can get back up to speed. The total cost could easily run into six figures.
Equipment Breakdown insurance to the rescue! "Think of this policy as Accident, Health, and Disability insurance for your equipment," says Mark MacGougan, Assistant Vice President of The Hartford Steam Boiler Inspection and Insurance Company. The coverage, also known as Boiler & Equipment Insurance, can pick up the tab for:
Repairs and replacement of equipment damaged due (some policies will cover green construction and disposal and recycling expenses)
Expenses of limiting the loss or expediting the restoration process
Income lost when a covered breakdown causes a partial or total business interruption
Many businesses carry Equipment Breakdown coverage under their Commercial Property insurance. More sophisticated operations might prefer a stand-alone policy. Some insurance companies offer such preventive services as infrared scanning technology or onsite inspections to identify maintenance needs.
The coverage you need depends on the nature and size of your operation, the exposures you face, and the type of equipment you use. As insurance professionals, we'd be happy to tailor an Equipment Breakdown policy to fit your needs, at a price you can afford.