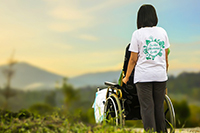 Peace of mind is never more important than it is when you're responsible for the safety of other people. Carrying expensive cargo by truck can be tense, transporting priceless art or delivering luxury cars can be scary, but when your job is to ensure the well-being of your fellow human beings, it can be downright nerve wracking. It's not just that you really need to be on your game when driving, feeding or providing care for your customers, it's the fact that you need to keep on your toes for every single thing that might go wrong, whether it's your fault or not, while these people are under your supervision.
Adult day care is one such field where you have to contend not only with the risks that come with the service you provide, but the risks relating to the people you are caring for. Adult day care insurance has to be able to protect you not just from issues relating to your service, but issues relating to poor health, old age and so on. Adults who need day care tend to be dealing with various issues relating to their mental and physical health, and you're going to need to take that into account when settling on a liability insurance policy for your company.
One way to pay a little less on your adult day care professional liability insurance is to make sure that you have more than enough staff on hand to handle any emergency that may come up. Keeping registered nurses on the payroll, even if they cost a little more than hiring just anybody and giving them on-the-job training, will bring risk down, which means a lower cost to insure your day care company, and more importantly, it means happier, healthier customers.
Keeping your facilities up-to-date can have a tremendous impact, as well. By making sure you have handrails in the bathrooms, for instance, as well as medical equipment on hand, you're creating a safer environment for the people in your care.
Insurance is about managing risk, but it's also about managing headaches. Anything that you can do that brings you peace of mind, a sense of security in your day to day affairs, is something that is likely to bring your insurance costs down. The better you treat your customers, the more up-to-date your facilities, the better off you and your customers both will be.