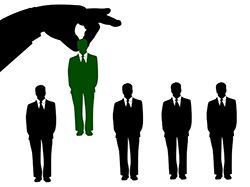 Hiring the best employees means your business succeeds. Good hiring practices can also save you up to $50,000, the cost of finding, interviewing, training and equipping an employee. It can be challenging to choose the most qualified candidates, though.  Consider tips that show you how to hire the best employees.
Capability

In addition to easy jobs, the best employees tackle hard tasks that require effort, creativity and perseverance. Evaluate a potential hire's willingness to learn, grow and take on additional responsibility as needed.
Character

In addition to skills, your employees must have a good character. They should be honest, truthful, selfless, a team player and respectful.
Commitment

Employees do occasionally move on to other jobs and careers, but you don't want to hire a chronic quitter. Examine a candidate's resume, job history and references for a pattern of commitment.
Compatibility

Your business culture is an important part of your success since employees work harder and smarter when they get along with each other. Be sure a potential employee is compatible with your existing employees, supervisors and clients before you hire them.
Compensation

When an employee receives the compensation they deserve, they feel appreciated and motivated to perform to the best of their ability. It's always a good idea to double check that an employee candidate is comfortable with the compensation before you send an official job offer.
Competency

The best employees have the skills needed to do the job they're assigned. Check education and experiences, too, as you ensure your new hire is competent for the position and duties.
How to Evaluate Potential Employees
During the interview process, an employee can create a persona that gets your attention. You have to comb through their application carefully to ensure you know exactly what kind of employee you're getting.
First, read the cover letter. It gives you a good idea of the candidate's passion, past performance and future potential.
Next, get creative during the interview. Applicants can easily rehearse traditional questions and hide their true potential, leaving you without a real look at their capabilities. Creative questions like, "How did your first job prepare you for this position?" can help you see a candidate truthfully and discern how they will act when faced with an unexpected challenge.
Finally, talk to former associates including supervisors, co-workers and subordinates. Discover the truth about how the candidate performed their job, treated others and stepped up to the plate.
To build a better company, you must know how to hire the best employees. Use these tips during your next hiring event to reveal the employees who will best help your company succeed.