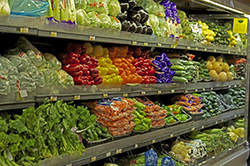 As a grocery store employee, you expect to get a regular paycheck. However, you may also be eligible for a variety of employee benefits for grocery stores employees. Here's a partial list.
Healthcare
Access a variety of healthcare options, including:
Medical insurance
Prescription drug coverage
Group vision and dental plan
Flexible Spending Accounts
Group life insurance
Short-term and long-term disability plan
Mental health and behavioral health care
Free flu shots
Education
Whether you work as a cashier, stocker or manager, you could be eligible for education assistance, including tuition reimbursement or scholarships. Your employer may also offer a mentorship program or leadership development courses taught by your grocery store corporate management team or other trainer.
Employee Assistance Program
If you face a personal emergency, take advantage of the employee assistance program. It can pay a personal bill or provide other assistance.
Some companies also offer assistance with child or elder care. You may also receive free or discounted legal consultations and financial planning.
Time Off
Enjoy paid vacation, sick and holiday time off. The amount of paid time off you receive depends on your employer, the number of hours you work and your specific benefits package.
Future Funding
Grocery stores like Publix give employee stock ownership. Your company may not offer a generous option like this, but do take advantage of their 401(k) retirement savings plan and matching funds.
Payday Perks
Every week or two, you'll receive a paycheck. Opt into direct deposit in one or more checking or savings accounts, allowing you to customize your paycheck the way you want.
Other payday perks could include a free credit union membership where you can access higher than normal interest rates. Some companies also offer:
Quarterly bonuses
Annual holiday cash bonuses
Bereavement pay
Jury duty pay
Premium pay for overnight, weekend or holiday shifts
Miscellaneous Benefits
There are a variety of additional benefits that supplement your paycheck and offer personal and professional fulfillment. They include:
Service awards
Opportunities for advancement
Flexible work schedule
Holiday exchange (get the day off of your choice when you work on a holiday)
Discounts on local attractions or events
Adoption assistance
Discounts on home or auto insurance
Cellphone discounts
Gym membership
Free food or discounted groceries
Product tastings
Free uniforms and shoe allowance
Free parking
Annual review
Annual survey to give feedback to your supervisor
These are a few examples of employee benefits for grocery stores employees. Check with your particular employer as you take advantage of all the benefits you're eligible to receive.