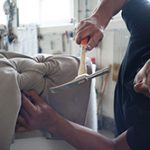 As an artisan contractor, you have invested years in perfecting your craft. Protect your professional reputation, personal assets and business future with artisan contractor insurance.
Who is an Artisan Contractor?
An artisan contractor performs a single trade or job. Examples include:
Cabinet Installers
Drywall Installers
Electricians
HVAC Contractors
Interior Decorators
Landscapers
Masons
Painters
Paperhangers
Plumbers
Roofers
Tree Surgeons
Tile Setters
What is Artisan Contractor Insurance?
Insurance protects your business, your work and your assets whether you own an artisan business or work as an independent contractor. Because your needs may vary between projects, consider these common types of artisan contractor insurance coverage options.
Liability Insurance
Despite your skill, accidents happen on the job site and as you perform your duties. Liability insurance covers expenses if you are sued. A general liability or more specific liability policy can cover:
Property damage
Personal injury
Negligence
Products
Cyber liability and data breaches
Employment practices
Owners and contractors protection
Workers' Compensation Insurance
As an artisan contractor business owner or a self-employed artisan contractor, you should purchase Workers' Compensation coverage. It's usually a requirement if you employ three or more employees, and some general contractors only hire independent artisan contractors who show proof of Workers' Compensation. Check with your insurance agent for details.
Property Insurance
Your business premises are insured under a property insurance policy. This policy can include an office you own or any permanent additions or upgrades you make to a rented office or business property.
Floaters Insurance
The valuable machinery and equipment you own or install requires its own insurance. Purchase floaters insurance to cover items such as your hand or power tools and air conditioning units or wallpaper as you transport, install and test them. You can purchase this insurance for a single job or report each new contract to your insurance agent.
Business Vehicle Insurance
In most cases, your personal auto policy will not cover your business vehicle. A business vehicle insurance policy provides you with adequate coverage in case you're involved in an accident or cause property damage while operating your work vehicle.
Umbrella Liability Insurance
While you may have adequate liability coverage in place, consider purchasing an umbrella liability policy that stretches your insurance coverage. It can provide up to $5 million in additional protection that protects your business and personal assets.
Artisan contractor insurance is essential. Be sure to talk to your agent about your specific needs. Then purchase a customized policy with adequate coverage that protects your business.