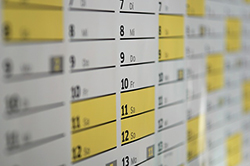 A flexible work schedule can help you achieve work-life balance, maximize your circadian rhythm or prepare for retirement. You may need to convince your boss that it's a good idea, though. Use nine tips as you advocate for a flexible work schedule.
1. Reference companies that successfully offer flexible work schedules.
Several companies successfully implement flexible work schedules, so share these success stories with your boss.
Best Buy – decreased turnover by 90 percent, and increased productivity by 35 percent.
Cisco – gained $195 million because of increased productivity.
Deloitte – cut turnover costs by $41.5 million.
2. Show your boss what the company will gain.
While a flexible work schedule helps you personally, your boss needs to know that it will also benefit the company. Show evidence that proves it will improve performance, productivity and retention. Also, indicate how it will meet a current need, such as reducing budget constraints, increasing available customer service hours or reducing turnover.
3. Discuss details about how the arrangement will work.
Do your homework and figure out how your flexible work will work. Do you wish to telecommute, work a compressed schedule or job share? What equipment will you need? How will you report your professional achievements?

4. Describe the compensation schedule.
Because benefits like your paycheck, vacation time and insurance coverage can change when your work schedule changes, describe your expected compensation schedule. Demonstrate your willingness to be compensated fairly.
5. Address a contingency plan.
Your proposal should address how you will handle challenges. Examples could include busy seasons, power outages at home or meetings on your days off.
6. Share how your performance will be measured.
Your boss will need to ensure that a flexible schedule delivers everything you promised. Will you undergo weekly performance reviews, ask your clients to evaluate your performance or poll co-workers to measure morale?
7. Be prepared to counteract negative impacts.
Despite the benefits, there are drawbacks to a flexible work schedule. Describe how you will handle busy seasons, ensure you meet productivity goals and communicate with clients.
8. Recommend a trial period.
A trial period gives you time to decide if a flexible work schedule is right for you and your company. At the end of the trial period, you and your boss can evaluate your future schedule.
9. Put your proposal in writing.
Because your boss may need time to evaluate your proposal, put it in writing. Then schedule a follow-up appointment to review his or her decision.
A flexible work schedule is beneficial for you and your company. With these nine tips, you can successfully advocate for your own flexible schedule.