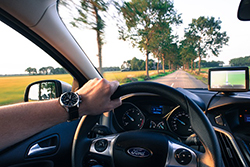 Jillian owns a small office supply store, and she sometimes asks her employees to make customer deliveries in their personal vehicles. She wonders if she needs to purchase a commercial auto insurance policy to cover any accidents or other related claims. Two questions help Jillian address this risk and determine what type of insurance is best for her needs, and they can help you, too, if you're in a similar situation.
What type of work tasks is the vehicle used to perform?

A commercial auto insurance policy is the best choice if personal vehicles are used by employees to:

Make deliveries
Visit client locations
Transport clients or employees
Travel to or between work or remote locations
Transport tools or equipment that are essential for employment
Transport goods or people for a fee

If your employees perform any of these tasks and need to file an insurance claim, their personal auto insurance policy may deny the claim. Their personal policy could also be cancelled, leaving them without this valuable coverage.
Does the employee have personal auto insurance?

A personal auto insurance policy is designed primarily for personal use. However, a personal policy may also include a special business-use designation. It may also cover occasional business use if the insured vehicle is a private passenger car or van.

Inspect your employees' personal auto insurance policies to ensure it will cover an accident that occurs if the vehicle is used for business purposes. Otherwise, you or your employee will hold financial responsibility, which is quite costly and a huge risk.
After you answer these two questions, you will know if you need commercial auto insurance or if your employees' personal auto policies will suffice. If you discover that you need a commercial auto insurance policy, be sure it covers your needs and includes:
An affordable deductible – you don't want to compromise your company because your deductible is too high.
Adequate coverage for any type of accident, including minor fender benders and serious crashes that cause bodily injury and property damage.
Access to a rental vehicle – if you use a vehicle regularly for work-related tasks, your policy should include a rental vehicle you can use while your vehicle is being repaired.
Coverage for legal expenses – protect your company when you purchase auto insurance that covers legal expenses related to an auto insurance claim.
Like Jillian, you may ask employees to drive their personal vehicles occasionally. Most likely, you will benefit from a commercial auto insurance policy. Your insurance company can customize a commercial auto insurance policy that fits your driving habits and needs. Discover more details today as you get the coverage that's right for you.