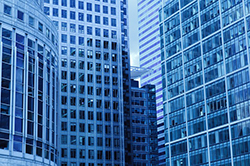 When settling Building Insurance claims, it can be tough to determine the real cost of replacing or restoring damaged property. Unfortunately, the methods that policyholders, insurance companies, and agents usually use to set the right amount of coverage all have their weaknesses; according to insurance experts, this means some buildings might be underinsured by up to 40%!
This shouldn't be a surprise. Basing the amount of coverage on the purchase price of a building doesn't factor in possibly significant changes in the value of the location. The same problem applies with using real estate appraisals, which are based on the sale price.
Although setting coverage by estimating square footage and material costs can be fairly accurate, these methods depend on the validity of the data plugged into the formulas. What's more, changes in zoning or building regulations can have a significant impact of the value of the building.
As a construction professional, you can't afford to "guestimate" the cost of building repair or restoration after a loss. For example, you probably have a strong grasp of arcane and complex zoning and building ordinances in your everyday work.
We'd be happy to provide a complimentary review of the valuation of your buildings for coverage purposes and recommend any needed changes. We can then explore opportunities to improve the accuracy of building valuations for your clients — and ours, so that we can help close that 40% "underinsurance gap."