Rewarding your employees for their hard work and dedication to your company is one way to say thank you. Rewards also build morale, strengthen teamwork and improve productivity. Consider several ways your HR team can reward employees without spending a fortune.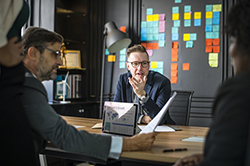 Plan an Outing
A fun outing builds teamwork and helps your employees to relax. Try bowling, jumping at a trampoline park or seeing a movie.
See a Local Show
A ticket to a local theater show, sporting event or musical concert is a fun way to show appreciation and support the local economy. Choose a different event each month or quarter to increase employee engagement.
Pay for Gym Memberships
A commitment to health and wellness boost your employees' mental clarity, energy, focus, and productivity. Select a gym near the office to encourage your employees to work out and exercise before and after work or during breaks.
Cater Lunch
Serve a taco, salad or baked potato bar or other favorite food as you reward employees and give them time to connect over lunch.
Buy Gift Cards
A Visa or other gift card is similar to a cash bonus. You may even get a discount on gift cards when you buy them in bulk.

Create a Company Award
Purchase a trophy or other reward for employees to win. The award for attendance, innovation, performance, or another trait can motivate employees, create friendly competition and boost morale.
Reserve a Priority Parking Spot

Allow the employee of the month to earn the right to park in an exclusive spot close to the office. This convenience rewards outstanding team members and boosts the winner's confidence and self-worth.
Give Swag
Imprint performance hoodies, laptop skins, pens, and other swag items with your company logo. These items double as a reward and company advertisement.
Donate to a Charity
Many of your employees may feel strongly about certain charitable causes. Donate to a charity in honor of your employees, and support your employee's personal interests.
Promote Professional or Personal Development
A professional or personal development book, workshop or seminar encourages your employees to learn new skills and develop interests. This investment shows that you care about their growth and value them as people.
Rent a Coworking Space
Give your employees the opportunity to get out of the office and into a new, creative environment. This reward may jumpstart creativity and provide a beneficial networking opportunity.
Take Time Off
Employees always appreciate an early start to the weekend or a long lunch break. Plan this reward to ensure all job obligations are covered.
Part of your job as an HR professional is to build morale. Choose from these frugal suggestions as you reward your employees.