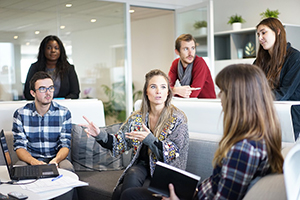 Competitive risk challenges many businesses like yours, especially during the holiday season. This year, manager competitive risk effectively in several ways.
Be Prepared
Instead of waiting until closer to the holidays to figure out what your competitors are planning or which promotions were most successful in the past, do your research now. You're more likely to enjoy a successful holiday season if you prepare for it.
Please your Customers
Use social media, in-store review cards and other methods to ask your customers what they want to see during the holidays. Are they interested in new products, free gift wrapping or bundle sales? Take their opinions into account as you plan to attract and please customers this season.
Embrace Innovation
Don't be afraid to try something new this year. When you think outside of the box, you have an edge over competitors who do the same thing year after year.
Add New Locations
The holiday season is the perfect time to test out a new location. Rent a kiosk at the mall, set up a temporary booth in a complementary business or open an online store. Try out a new location as you give customers more opportunities to find you and purchase your products.
Price Products Fairly
Discounts do attract customers, but you risk harming your bottom line if you cut prices too much. Take care to price products fairly so that your customers get a deal and you attract business without affecting your profit.
Offer Bundles
Customers typically like a good deal and see bundles as a financially lucrative investment. Group similar products together in a bundle or offer a complementary product or service as you prompt more sales.
Start a Subscription Service
Your goal for the holiday season is to improve fourth-quarter sales, but you also want to build your business into the new year. Consider a subscription service. Customers can purchase the subscription during the holiday season and gain benefits for months to come while your business creates ongoing income.
Revamp your Website
Increasingly, consumers search online before making purchases. Is your website user-friendly and attractive? Does it make shopping easy and work well on mobile devices? Make these changes now so your website is ready for the holiday shopping rush.

Show Gratitude for Competition
Sure, you want to sell more products than your competitors so you can make a profit. However, competition can force you to improve product quality and customer service while you reduce overhead and trim expenses. Overall, competition can make your business better, so be grateful for it.
Competitive risk can make or break your business. This holiday season, manage this risk in several ways as you please your customers and your bottom line.