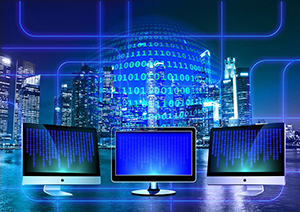 Every time your employees perform an online search, advertisers collect and categorize that data and create targeted ads. To protect your employees' privacy and prevent cybersecurity risks, follow several tips that help you avoid being tracked online.

Browse Privately with VPNs
Encrypt your connection with a virtual private network (VPN) and keep all your personal information private. A VPN connects you to one of its servers so you can browse anonymously.
Browse in Private or Incognito Mode
Every major web browser allows you to hide your browsing activity. Look for the spy in Chrome, "InPrivate" in Edge and IT, and mask in Firefox to ensure you're browsing incognito. Remember, though, that this feature does not hide your browsing habits from your ISP, office firewall and routers with monitoring tools.
Use Third-Party Anti-Tracking Browser Extensions
Privacy Badger, Ghostery and Disconnect are three browser extensions that can prevent trackers from following your online search history. Research your options then install and use one to protect your privacy.

Change the Browser Cookie Settings
Advertisers use small files called cookies to record and store your online activities. For instance, they can track how often you see a particular ad, which websites you saw it on and the browser you used. Clear cookies from your web browser, delete third-party advertising cookies and limit or disable tracking to remove cookies.
Opt out of Ads
Choose not to receive targeted ads based on your online behavior when you opt out. Take this step on individual websites or use a browser extension with anti-tracking capabilities.

Check your Online Account Settings
Review the settings on your online accounts. Turn off personalized ad tracking to prevent websites from collecting and analyzing your search history.
See Who's Tracking You
Do Not Track Plus, Privacyfix and Ghostery are three browser add-ons that allow you to see who's tracking you on the websites you visit. After you have the information, you can opt out or limit access.
Read Agreement Documents
Instead of skimming or skipping the Terms of Service and Use Agreements for websites you visit or apps and software you install, read these documents. They contain details about which data the site collects. Some apps, for example, can access your contacts, GPS and other phone features.

Use a Private Browser on your Smartphone

In addition to protecting computers, anti-tracking tools protect smartphones, too. Firefox Focus blocks social trackers and erases browsing history and passwords at the end of each session. Chrome, Edge and Samsung also have incognito modes that enable private browsing.
Use these tips to avoid being tracked as you browse online. They prevent targeted ads and can help your company improve cybersecurity.