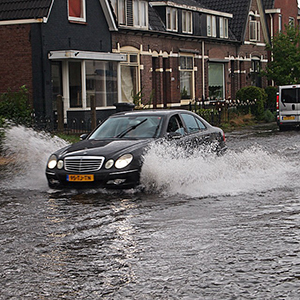 When you're in your car and you approach high water or get stuck in a flash flood, the actions you take could save your life. Know what to do when you're stuck in your car during a high water event.
Avoid High Water When Possible
Even if the street is covered by water, turn around. It's easy to underestimate the water's depth and flow, and your car could be swept away in water less than two feet deep.
Remain Calm
Take a deep breath. You need to keep your wits and conserve oxygen and energy.
Call 911
Alert authorities about your predicament, but only call 911 if it's safe for you to do so.
Get to High Ground
As soon as you realize your vehicle is surrounded by water, get out of your vehicle and seek high ground. Never remain in your car if you can possibly escape safely.
While escaping to high ground, grab obstacles if possible. Remember to always move above rather than under obstacles, though, to reduce your risk of getting stuck under water.
Prepare for Escape and Rescue
You may be unable to get out of your vehicle if it's surrounded by fast-moving water, but you can take steps that improve your chances of escape and make it easier for rescue crews to reach you.
Turn on the vehicle's headlights and hazards. This step improves visibility for emergency rescue crews who may be searching for you.
Unlock the doors. You might need to open them to escape or allow rescue crews to reach you.
Unbuckle your seatbelt. Improve your escape options and prepare for rescuers.
Roll down the window. As long as your car isn't completely underwater, the electric window mechanism should work, giving you an option to escape through the opening. Don't break the window, though, because the water pressure will push the glass toward you.
Take off your jacket. Less weight improves your escape chances.
Open the Door
If all other escape methods fail, wait until the water almost fills the cabin. The water pressure inside the car now equals the pressure outside, and you can open the door and escape from your vehicle.
Do Not Stay with the Car
After you successfully escape from your car, get to higher ground and call 911. Don't stand on the car, hold onto it or return to your vehicle even if the water recedes because you could be trapped underneath or swept away.
Purchase Adequate Insurance
While auto insurance won't protect you from a high water event, you want adequate insurance to cover damage, repairs or vehicle replacement. Check your policy coverage today as you prepare for any weather.